Work featured on Plain Magazine : 
'PORTRAITS IN THE SPACE' by wei chang is a love letter to a city's architecture
"Shot in the streets of Taipei, the series Portrait in the Space by photographer Wei Chang stems from her fascination with urban landscapes and the way its citizens interact with and within a particular space."
Check the link below for further information : 

https://plainmagazine.com/wei-chang-portraits-city-architecture/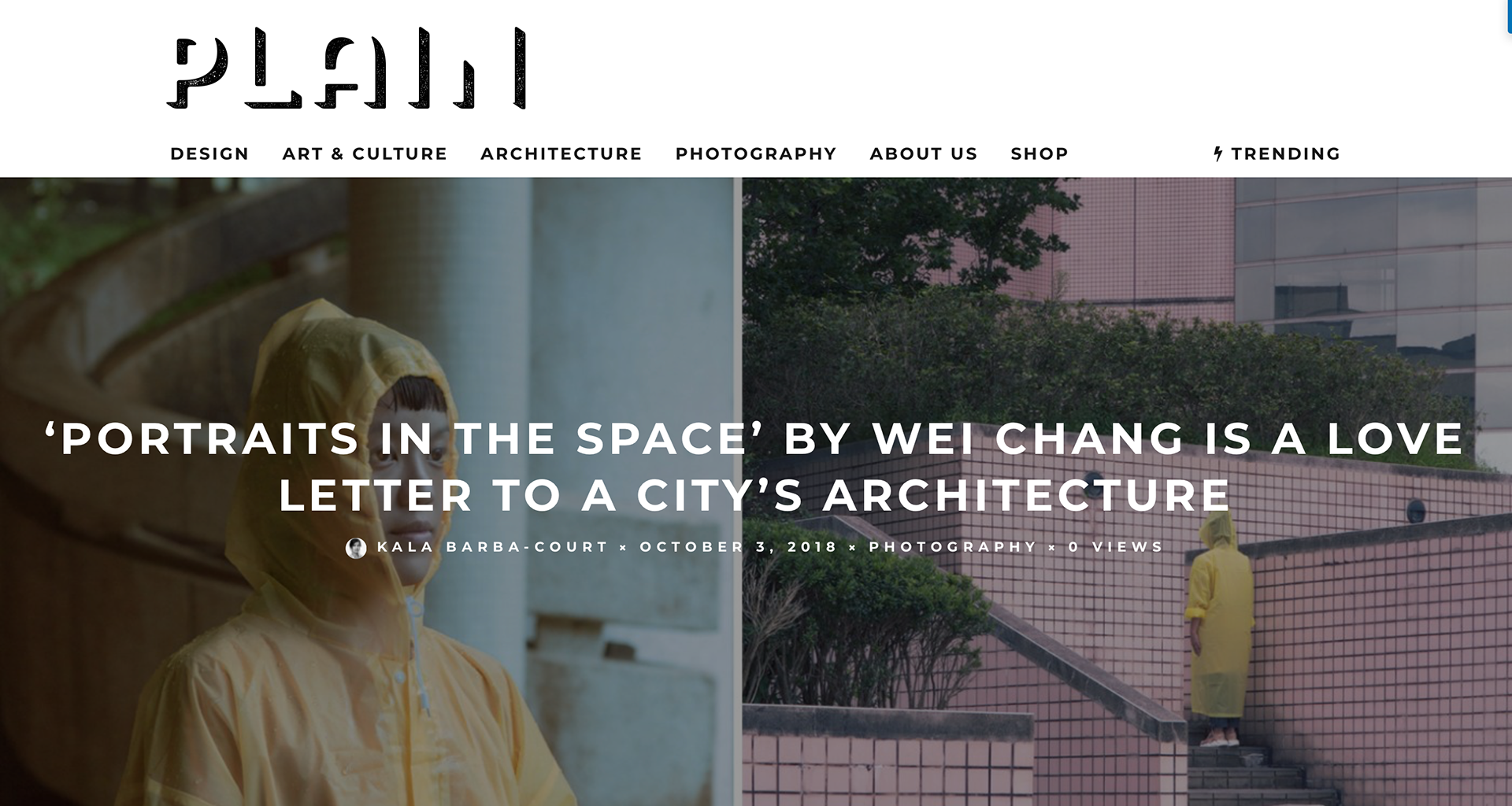 Work featured on Phototrend.fr : 
My photo series <Portrait in the Space> is featured on Phototrend. This project is my early study about the relationship between figure and cityscape. It describe the urban landscape, espacially those I called"back stage scene", of my hometown Taipei.

Dans sa série « Paysages urbains : portraits dans l'espace », la photographe taïwanaise Wei Chang étudie le portrait sous tous les angles dans des paysages urbains ordinaires. À travers des couleurs claires et désaturées, elle capture des visages sans émotions, mis en scène dans un univers dystopique.

Check the link below for further information : 
https://phototrend.fr/2018/09/portraits-in-space-wei-chang/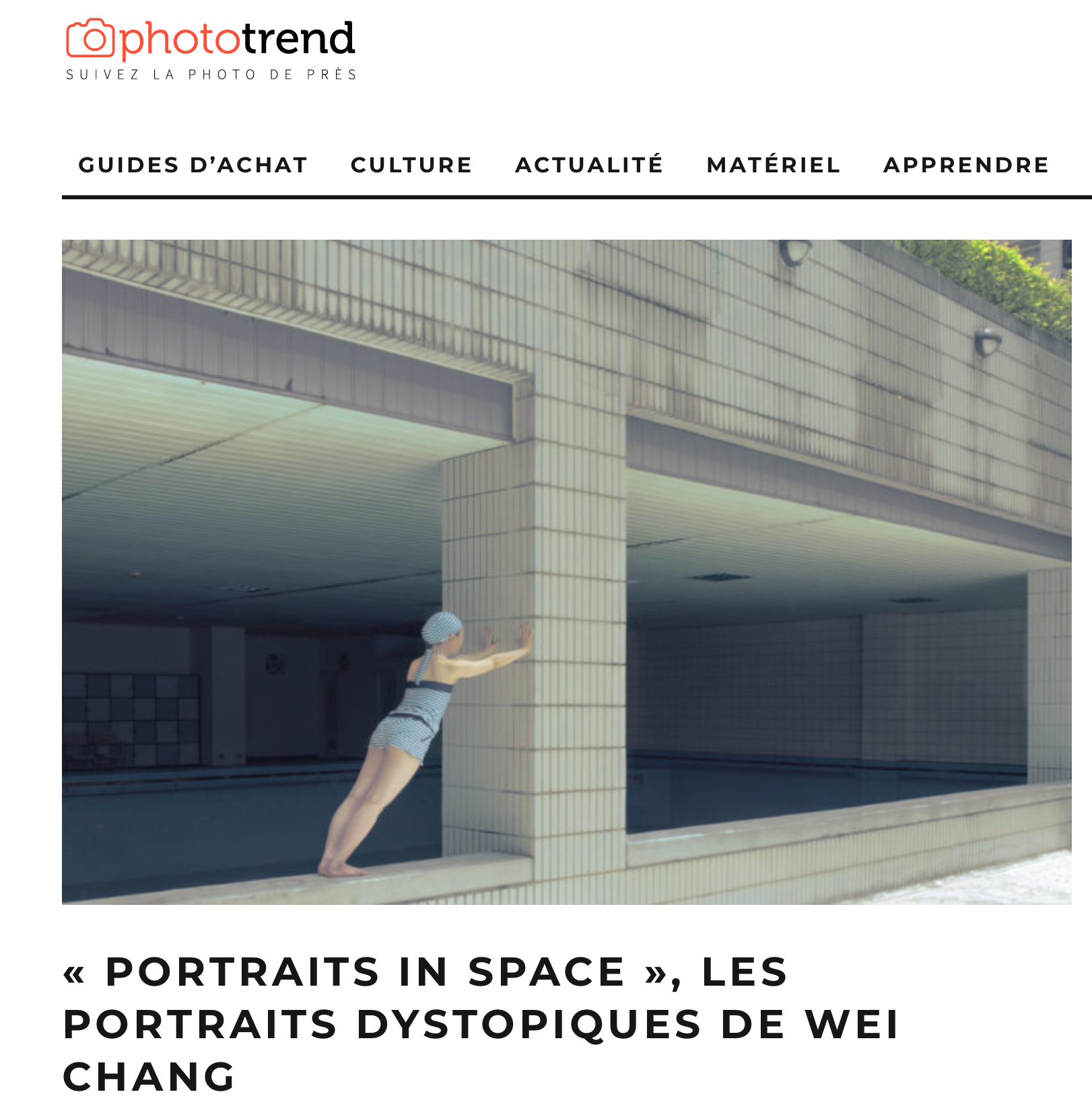 Work featured on Topos Magazine Issue 104
, Germany :
My photo story is featured on Topos Magazine, the international architecture and urban design platform, both in print magazine and website. Check the link below for further information :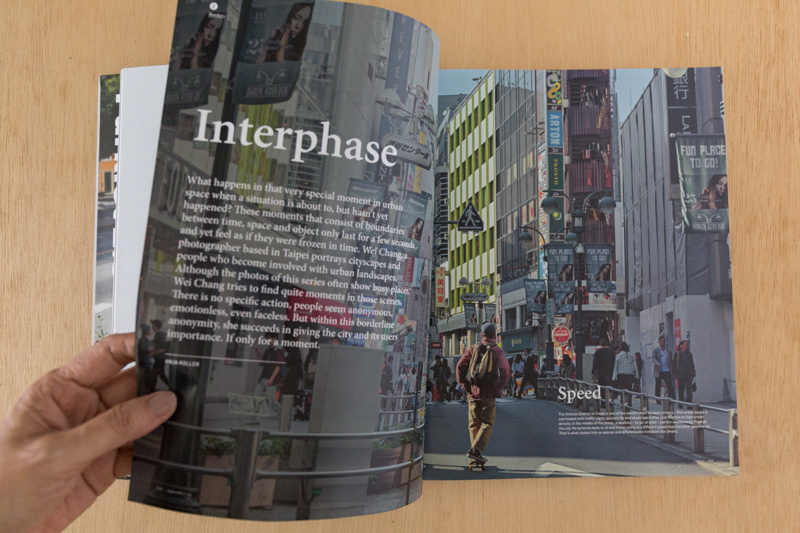 " What happens in that very special moment in urban space when a situation is about to but has not happend yet? These moments that consist of boundaries between time, space and object only last a few seconds and yet feel as if they were frozen for eternity. Wei Chang, a photographer based in Taipei portrays cityscapes and people who get involved with urban landscapes. " 
The print Issue 104 is available in Germany and worldwide since 14 September. Thanks to Anja Koller and the editorial team of Topos , it's my great pleasure to work with you.
Film projection in Jumping Frames Festival, HongKong :
The experimental dance film I've participated, <Elevate B>, is shortlisted in JF competition and projected during from 9/8-16 in Hong Kong.
Special thanks for the support of 臺北表演藝術中心 Taipei Performing Arts Center
http://jumpingframes.com/en/event/competition3/

Film projection in Festival Agite y Sirva, Mexico :
The experimental dance film I've participated, <Elevate B>, was selected by Festival Agite y Sirva and is touring in different cities in Mexico from July till Octobre.The most recent projection will start from 9/14-23 at the Cultural Center of Spain in Mexico City.
Special thanks for the support of 臺北表演藝術中心 Taipei Performing Arts Center
http://ccemx.org/escenicas/agiteysirva10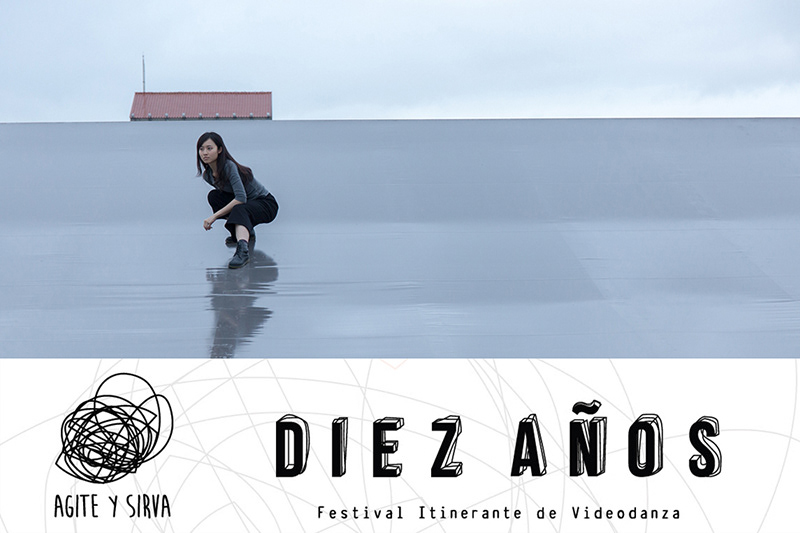 2-8 July, 2018 at Cosmos Arles Books, Rencontre d'Arles
Wei Chang participated the group exhibition curated by Brad Feuerhelm and Natasha Christia at Cosmos Arles Books, from 2-8 July 2018 during the opening week of the prestigious photography festival Rencontre d'Arles.
The Family of No Man is the culmination of an open call that has brought together 494 female and inter-gender artists from all around the world working in the medium of photography. The aim of this radical curatorial proposition is to revisit Edward Steichen's original The Family of Man, a seminal photographic exhibition and publication from 1955, which in its time was described "as one of the most ambitious undertakings in an art museum". Performing the patterns and production modes of the original project, which garnered both appraisal and controversy, The Family of No Man is conceived of as an open-ended physical and virtual platform of how the world today is seen through non-male eyes. The participants' works are displayed in a series of interactive outdoor and indoor installations while new images, uploaded in real time to an online platform, will constantly update the selection during the Cosmos Arles Books week. This material in tandem with the visitors' contributions will be deposited in a time capsule. Through its visual discourse, program of talks and parallel actions, The Family of No Man aspires to establish a critical space for an all-inclusive debate on gender equality, photography and its historiography.​​​​​​​
Visit here : http://www.thefamilyofnoman.com/index.php
WINNER OF PX3, Prix de la Photographie Paris
THIRD PRIZE IN THE PX3 2018 COMPETITION.
PARIS, FRANCE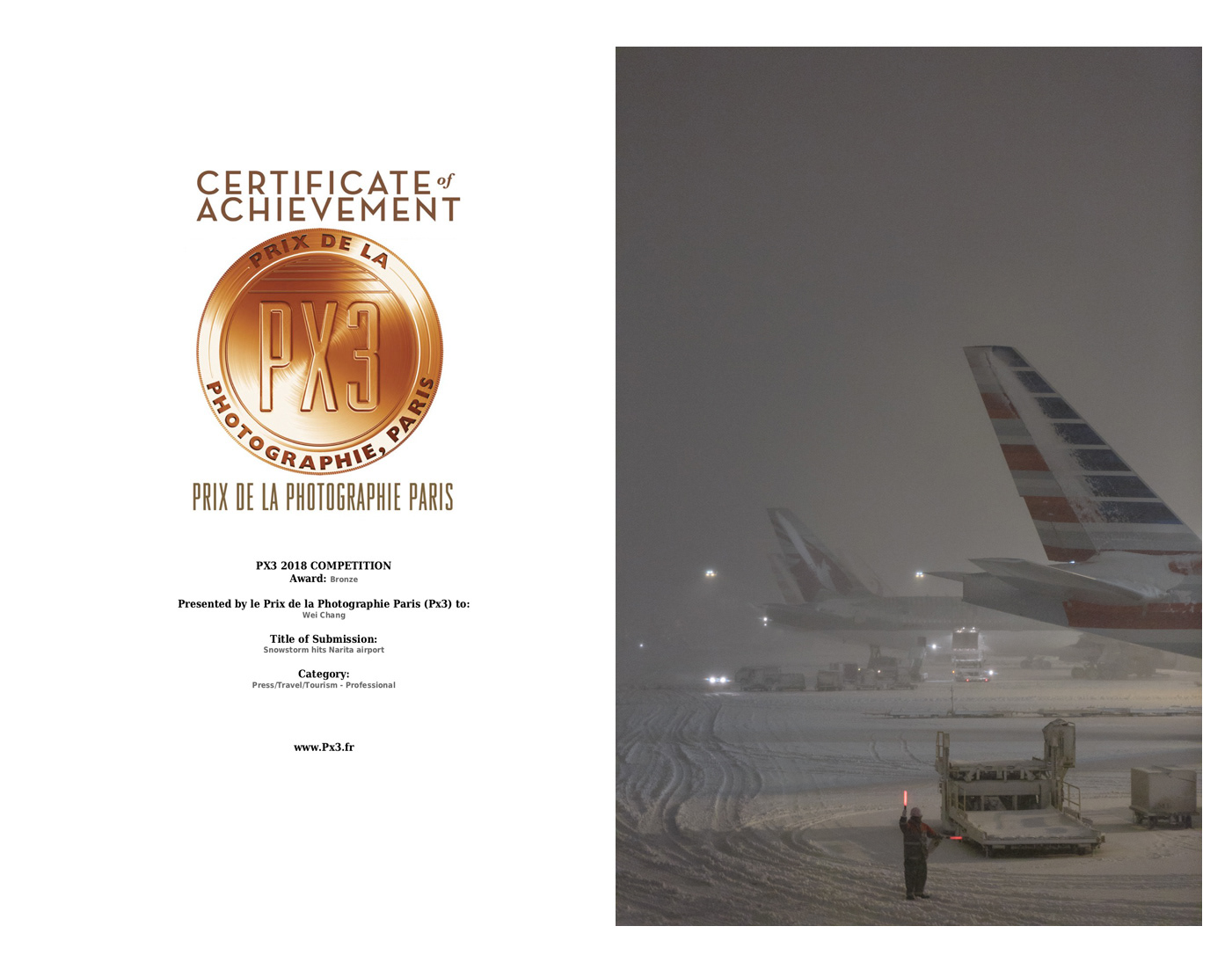 Wei Chang of Taiwan was Awarded: Third Prize in category Press for the entry entitled, " Snowstorm hits Narita airport ." The jury selected PX3 2018's winners from thousands of photography entries from over 85 countries.
Visit : https://px3.fr/winners/px3/2018/9977/